Automatic honey flow is a feature in modern beekeeping that allows beekeepers to harvest honey without causing much disturbance to the bees.
Honeycombs are made of high quality food plastic (BPA-free). They are designed so they can be used for a years.

The Deluxe Bee Hive Starter Kit is a great way for the novice beekeepers to start their first colony. No centrifuging, no mess, no effort, no expensive processing equipment is required.

This product makes the extraction process far less stressful for the bees and much easier for the beekeeper.
Quick view on how to install Automatic Flow Bee Hive
Don't forget to read all instructions before you install.

The hive will arrive to you as a big wooden Lego.

If you are unfamiliar with wood work, please ask a friend or someone from




your nearest beekeeping club to help.

Tools you will need for setting up the hive are not included. They are basic tools, mostly we all have them. You need carpenter's square, 2 x clamps (large enough to clamp around box), drill on low torque with a head bit or a head screwdriver, hammer, non-toxic glue, sandpaper.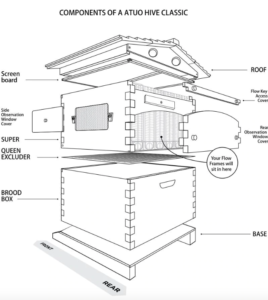 When You receive the package, please check the if the package is complete. If there is any damage please take photo of the package and inside items and contact us or apply for compensation to the shipping company directly.